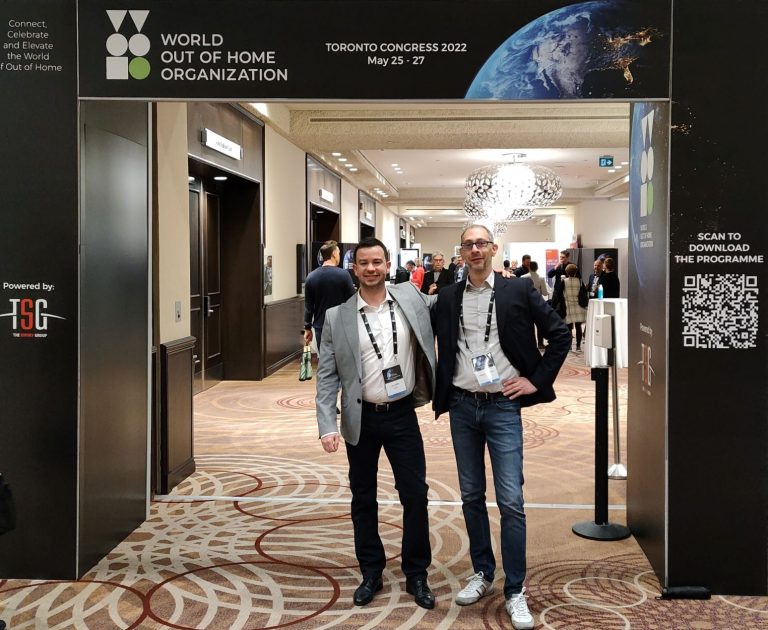 3 years after the last edition of the event (Dubai 2019), Mereo was present in Toronto for the World Out of Home Organization's Global Congress 2022 (WOO).
In the absence of Elias, our usual representative, held back for personal reasons, it is a new duo who traveled across the Atlantic. Léo, who joined Mereo at the beginning of the year to develop our business, and Sébastien, technical manager of our Price & Place solution, took their first steps as ambassadors outside our walls.
First of all, we would like to take this opportunity to thank once again our current and future partners for the quality of the time we spent with them during this exhibition. Our discussions were rich in information, learnings and are a source of motivation to achieve new challenges. Finally, what a pleasure to have been able to see and meet people in the flesh without a screen after this difficult period of COVID.
With a perfect organization, high-quality content and the presence of industry leaders from the four corners of the planet, everything was there to guarantee a first-rate event and beautiful business and human encounters. Like any technological industry, the OOH/DOOH universe is in full transformation. Innovations such as Ocean Outdoor's DeepScreen™ technology, the smart use of Big Data, the availability of more and more precise and qualified audience measurement, the implementation of interactivity with social networks, the metaverse, etc., show an endless creativity and desire for progress, despite the fears and worries of the last few years. Sébastien and Léo were impressed!
This event was also an opportunity to meet new people and exchange ideas, to move from one discussion group to another, to share experiences, to discover common passions and even to start some rhythmic dance steps while singing songs we like. In short, it was an opportunity to be and live together within the great family that is Out of Home.
Back at the office, the whole Mereo team immediately mobilized to reactivate some projects that had been put on hold because they were considered out of momentum, and to prepare new ones by capitalizing on the event.
To learn more about our solutions, please contact us!