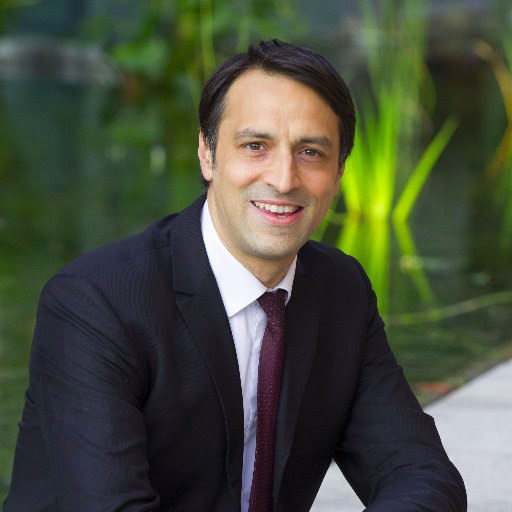 Karim Malak is an expert in the hotel industry and Revenue Management, as evidenced by his career in the field. Today, he is the General Manager of easyHotel. He held the same position at Adagio for 5 years, and also founded Mereo 20 years ago!
In this interview, he tells us more about himself, his career and his new mission at easyHotel. He also shares with us his vision of the hotel sector, analyses the practices of Revenue Management and gives us his advice on how to enrich them.
Mereo: Karim Malak, who are you?
Karim Malak: I'm a funny mix. I'm an engineer who is very client oriented. I'm French, British and Indian at the same time. I'm into data in general, but also attached to a more inductive methodology and not only deductive. I'm a bit of a jack of all trades!
Mereo: Do you have any passions in life? What motivates you on a daily basis?
Karim Malak: When my children give me time, I like to cook. I also like to learn from conversations with people, to be confronted with different points of view or universes. That's why I ended up in tourism, I guess. I also practice triathlon and when I visit a new city, I enjoy discovering it by jogging.
Mereo: Can you go back a little bit on your career, the elements that have marked you?
Karim Malak: When I was a kid, I was passionate about computers, mathematics, physics. A real nerd! I went to engineering school with a computer science option with the aim of working in artificial intelligence and data mining. Then I went from computer science to Revenue Management (RM) because there were a lot of algorithms, and finally from RM to tourism. Today I am on my second experience as a General Manager in the hotel industry.
When I think about it, there are many things that led me to work in tourism and in the hotel industry. In the first ten years of my life, I moved five times to three different countries. So it's not surprising that I'm in tourism. What is more surprising is that I'm in a General Manager position when I'm originally more of a geek and a technician.
Mereo: About this new position of General Manager, at easyHotel. Could you tell us a little more about the group and its objectives?
Karim Malak: The group currently has 43 hotels in 11 countries. The goal is to reach 100 hotels by 2027 and to become the leader in affordable and low-carbon hotels in Europe. We want to invent a new type of product that is practical, ergonomic, comfortable and low-carbon, while optimizing the real estate equation. Our intention is to avoid being lifestyle, or luxury, and instead be truly sober, and consider that the destination is not the hotel but the city. We want to push our clients to go discover the city, have breakfast in the city, find conference rooms and entertainment in the city. The opposite of a whole segment of the hotel industry. In fact, if you look at the numbers, during and after Covid, the so-called "affordable" hotel industry did much better than many other hotel segments.
easyHotel shares easyJet's DNA, which is to invent a new way of traveling, one that is optimal in terms of price but also in terms of carbon emissions per kilometer traveled. easyJet has used new aircraft to do aggressive Revenue Management and have a high occupancy rate, and ultimately it is a very efficient way to travel in every respect. They have become the second largest airline in many European airports within 25 years. I don't know if we will be the second largest hotel chain in Europe in 25 years but when you see the space to take and the success of the company internationally I really think the potential is there.
Mereo: What attracted you to this new adventure?
Karim Malak: Logic and positioning. I'm interested in giving access to smart and frugal travel to as many people as possible. The fact of offering the best possible basics at the best price will allow us to speak to different customers. We will attract both people who are very price sensitive but also all those who want to make a smart choice: "I want to discover a city but I don't want to spend all my money and all my time in my hotel, so I prefer to go to easyHotel and eat in a great restaurant with a good atmosphere in town". What also interests me in this mission is to use as little material and superfluous design as possible. We don't need to put bikes on the walls, bikes are for riding, not for hanging on walls! We are really in line with this trend of intelligent frugality and sobriety.
The second reason is the company's strong ambition to develop internationally. This was also my mission at Adagio for 5 years when I was General Manager.
Mereo: What kind of challenges have you faced since your arrival in the group?
Karim Malak: There are only challenges! First of all, moving from France to a mainly English structure. Working in a context with people of different nationalities and cultures is always a challenge.
From a marketing point of view, there is a specific challenge in France because low cost has a bad reputation there. For me it's just the opposite, I think it's fantastic to be able to do quality at low prices and it's something we should be proud of. 
Finally, there is a challenge from a development point of view, with companies being very aggressive in their investments. While they are evangelizing the market in France, allowing everyone to see the value of investing in budget hotels, they are also increasing the competition on the different deals we want to do.
Mereo: The hotel market has been quite battered in the last two years, do you think it is being reborn in a different form, that it is going through a deep transformation? How do you think it will evolve?
Karim Malak: I think that the hotel market is much less shaken up than we might have thought. Demand, even if it is on the rise again, is quite volatile and remains strongly impacted by factors such as geopolitical changes. It is therefore normal for this industry to experience ups and downs. This is the lot of tourism. Nevertheless, considering all that we are going through (attacks, geopolitical and health crises), it is not so upset. 
The real changes have finally not much to do with Covid. The first, if we analyze it on a global level, is the emergence of the Chinese and Indian middle classes. We still don't know how this will transform the industry in terms of destination, infrastructure and services. A concrete example: "How many mid-range hotels in Paris serve breakfast that is adapted to Chinese customers?" Finally there are not many except in the luxury sector. These are things we don't talk about much, but there are hundreds of millions of people who travel from India and China.
The second point is the ecological transformation. The industry has been hiding a lot by planting trees without looking at the whole carbon equation of travel. Knowing that 80% of carbon emissions in the hotel industry come from the construction of the building itself, optimizing surfaces is vital. Using less concrete in favor of wood or recycled materials is also essential.
Third point: I have the impression that hotels need to look for a more precise positioning, that we can't sell a "one size fits all" and that clients are looking for hotels that are truly budget, truly lifestyle, or truly luxury. Those who are stuck in the middle, and in particular the mid-range hotels, are having more trouble.
Mereo: And if we focus on Revenue Management practices, do you feel a transformation either in terms of techniques, tools, or indicators? Is the profession evolving a bit?
Karim Malak: There are two things that are a bit contradictory. On the one hand, the extreme volatility means that historical data is of poor quality and cannot be used as is. On top of that, there are changes in brands and distribution systems (the fact that OTAs have gone from 0 to 60% of hotel distribution changes the situation quite a bit in terms of pickup). From this observation, we can see that the human factor is quite important. On the other hand, we are witnessing the rise of artificial intelligence techniques linked to the increase in computing power, with the underlying trend being to manage the same number of hotels with fewer Revenue Managers: having 80% managed automatically and 20% managed by Revenue Managers. 
If we look at another point, there are many Revenue Management systems that are really focused on the hotel's internal data, whereas more and more external data can be taken into account: the competition of course, but also airline prices or the pickup of other segments of the tourism market. The challenge is to use all the external information, weather, weather forecasts, etc. to improve our Revenue Management practices.
Mereo: Would you have any advice for Revenue Managers who read this article?
Karim Malak: Always keep learning as you go. I started my career when there was no training in Revenue Management, when everyone was learning on the job. Now it's the opposite, there are a lot of Revenue Management courses but they are a bit static. So my first piece of advice would be to keep learning, to learn about what exists in other sectors, other tools, and not to get trapped in an overly standardized methodology.
My second piece of advice would be to be a little more scientific, i.e. to do a little more trial and error. I'm always amazed when I see Revenue Managers who rely solely on their intuition. Why not, but what they forget is the second part: to see what assumptions they used, what results they obtained and according to that repeat or not the experiment on the next decisions they are going to take. Obviously, there are so many factors to take into account that it is difficult to experiment with control values. That being said, applying best practices like noting what the conditions were, what the assumptions were, and why you made the decision you did, I think is still very valuable.